Content of the article
A new policy that prohibits tourist bus parking on Granville Island and charges businesses up to $500 per bus to drop off and pick up passengers has made businesses hotter than an unair-conditioned coach on a hot summer day. 'summer.
Content of the article
The popular tourist destination says it needs to do something to relieve the glut of oversized diesel vehicles on the tiny island.
But bus companies complain the new rule was rushed without their input, is poorly designed and costly, and will end up increasing traffic in and out of one of Vancouver's most popular tourist spots.
---
Shipping container restaurant is coming to Vancouver's Granville Island this summer

Granville Island expects to thrive despite loss of Emily Carr University

Daphne Bramham: Granville Island reboot lacks a bold vision for the future
---
The island's owner, Canada Mortgage Housing Corp., sent a letter on March 21, informing bus companies and operators of the new policy: five minutes to drop off passengers and 10 minutes to pick them up only at designated areas, and buses must leave the island while passengers shop.
Content of the article
Any bus without the proper permit as of May 15 — annual non-transferable fee per bus is $300, $400, or $500 depending on the number of seats; a transferable sticker to be shared by a fleet is $900, $1,200 or $1,500 – will result in that travel agency being banned from the island. Fees collected will be used to pay new parking staff.
"There is nothing more we can do, the status quo no longer works," Granville Island spokesman Scott Fraser said. "Being geographically limited, we have no space to grow."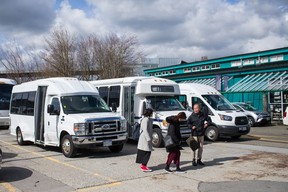 He said the tourist bus parking lot got more crowded every year and "last year I personally saw 15 buses trying to enter six spaces".
Under "Rationale," on its two-page Draft Sightseeing Bus Policy, CMHC says the large number of buses has affected "the 'people place' vibe of Granville Island."
Content of the article
"Giving us a month and eight days notice when these trips are booked one to two years in advance is unfair," said Andrew Karwowski of Universal Coach Line of Richmond.
Its fleet has 60 coaches, which would cost $30,000 a year for individual permits, he said.
"Who will absorb this cost?" he said. "We have to pass it on to the tour operators who charter our buses, and they have already set the prices for this year."
He said the industry is not against a new system, but this solution will mean that a bus driver will double his trips in and out of the island on his single route.
Drivers will have nowhere to park in the surrounding residential area and will have to drive or drive a long distance, waiting for the call to return for passengers.
Content of the article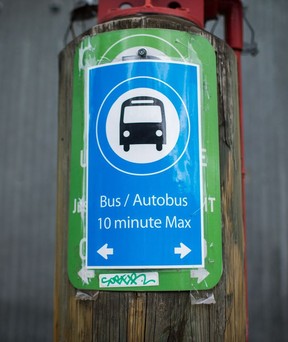 There could be up to 200 passengers waiting for four buses at a time, and the pickup area would not be able to accommodate them, Brad Sidjak of Richmond's International Stage Lines said in an email. He also called the fees "exorbitant" and unfair because they do not apply to taxis, limos or vans.
Sidjak warned that the loss of money spent by the thousands of passengers will hurt island businesses.
The Granville Island Business and Community Association did not respond to a request for comment Friday. Fraser said he hadn't heard any negative feedback from traders about the change.
Sidjak said he had been contacting CMHC unsuccessfully since January to provide comments on the parking policy. He called on CMHC to delay any changes or fees for at least a year to better study their impact and allow tour operators to adjust prices.
Content of the article
Fraser said bus companies will be asked for suggestions at a meeting in April before the policy is finalized.
Tourism Vancouver supports the new tour bus policy to "maintain the walkable vibe the island is known and loved for," spokeswoman Amber Sessions said in an email. She predicted no change in the number of tourists to Granville Island, which is second in popularity to Stanley Park.
Friday on Granville Island, weeks before the official opening of the tourist and cruise ship season, there was a constant flow of coaches, school buses and minibuses, including one from an association North Vancouver non-profit, and about five were parked in the area still reserved for buses at any one time.
Granville Island released its transportation strategy last week, and tourist buses were targeted as an issue requiring action to make the island more pedestrian-friendly.
---
Related
---
CLICK HERE to report a typo.
Is there more to this story? We'd love to hear from you about this or any other stories you think we should know about. Email vantips@postmedia.com