Content of the article
They may have stayed in one place, but they certainly accomplished a lot.
Content of the article
Last weekend, the fourth Tour de Concrete Blonde hosted by Concrete Blonde Hair and Body raised over $62,300. The 24-hour Friday and Saturday bike-a-thon was supported by an online auction of 68 items, which is the highest in the event's history. The support blew the $50,000 fundraising goal out of the water.
"Honestly, I'm impressed with this," said Concrete Blonde owner Chad Stewart. The news after gaining some well-deserved time on the bike after the weekend. "The support we have received from our community, customers and family for this event is incredible. Achieving these totals in just 24 hours is crazy.
Concrete Blonde staff members were joined by staff from JDK Heating and Cooling, whose owner Shane Kyle is co-hosting the event, and new this year, staff from Lavender and Lace Boutique also contributed a bit. sweat while going on Facebook Live to their customers to help spread the word about the fundraiser. A total of 60 runners covered 2,354 kilometers during the 24 hours.
"The teams from all companies were amazing," Stewart said. "There were no complaints, just lots of smiles, even with the crews arriving at 3am and 4am. We watched movies, listened to great music and created TikToks.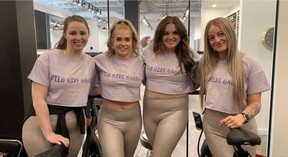 In addition to the nearly $60,000 raised at last year's event, Tour de Béton has raised more than $114,000 in two years for the CASA Foundation, which is a non-profit organization in the region of Edmonton that supports child, youth and family mental health.
Content of the article
"I continue to support CASA because I believe mental illness needs more support," noted Stewart. "As someone who struggled with depression in my time and whose family struggled with mental illness, I wish I had the support that CASA offers families. I believe if our small businesses can help make a difference for this, then let's keep pushing hard and continue this journey.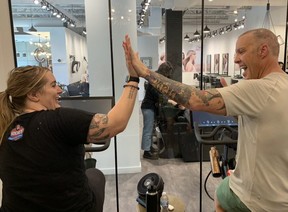 But Stewart and Kyle aren't ready to get off the bike just yet.
"Shane and I aren't done. We are hosting the Vancouver Island Minds Over mountain bike ride with CASA which will be June 10-19. We start our trip in Cumberland, BC and ride to Victoria – over 1,200 kilometres, Stewart added "This time we will have some beautiful scenery to watch. This will be our fifth year doing this race and I look forward to spending time with the team and hanging out with them." my best friend.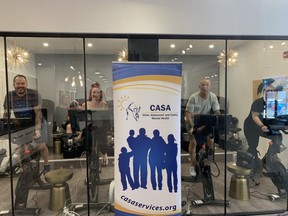 You can stay up to date on the next fundraiser by following Concrete Blonde on Facebook or Instagram.
lmorey@postmedia.com
twitter.com/LindsayDMorey